Car Towing
We provide quick and efficient towing services to light, medium and heavy Vehicles within Perth and in surrounding areas of Western Australia.

Breakdown Towing Service
Have a vehicle that's broken down? There is no need to worry! Our breakdown towing services will transport your vehicle to a garage for repairs in no time.

Flat-Bed Towing Service
Is your vehicle making a concerning noise while you're on the road? Don't wait till the last minute to make a smart choice. Call us and get exceptional flatbed towing services at affordable prices in no time.

Emergency Towing Services
Our emergency towing services are available 24/7 at your services. Give us a call right away, just in case your car gets involved in a severe crash or need to be taken out from a ditch. We are here to provide you roadside assistance with towing services to a garage for repairs.

Tilt-Tray Towing
If someone has parked their car in your private property illegally, you can get this unauthorized vehicle towed through our tilt tray towing services, that tow vehicle in a quick and easy way with no damage. This service works best for damaged vehicles as well.

Low-Clearance Towing
If you own a luxury vehicle that requires towing of any sort, then we provide low clearance towing services for exotic cars that or the ones with a lowe base. Our local business has a capable towing vehicle specially designed and suited to transport low clearance cars.
Towing service when you need it most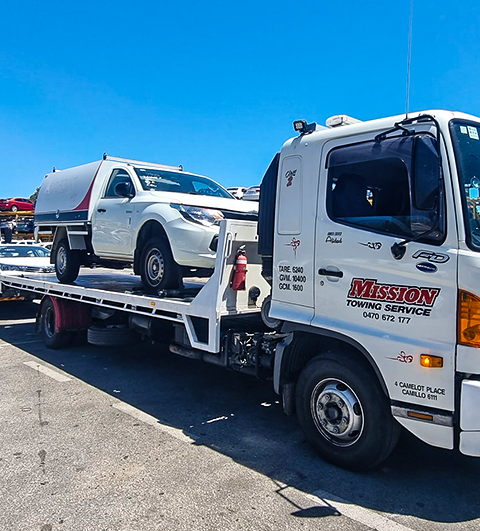 TOWING SERVICES SOUTHERN SUBURBS, WA
We will supply you with the greatest towing service, whether you were in an unfortunate incident or having a complete vehicle mechanical breakdown or just having car troubles! Mission Towing Service, the fastest towing services Perth, is ready to pull your car off the road as quickly as possible.
When You're In Doubt, We'll Tow It Out
Mission Towing Service significant expertise is backed by broad-based towing service capacity and various types of cheap tow truck service options available.
We understand that this line of work demands an emergency-based ethos, where a prompt response is essential in addressing vehicle breakdowns; and, at Mission Towing Service, we refuse to lower our level of service to fulfil this objective. Rather, we adhere to our guiding idea that quality and safety must always come first.
Breakdown Towing
Stop worrying about your broken-down automobile and call Mission Towing Service right away. We'll be there right off the bat. Our towing service Perth fleet is 100 % ready to handle any car troubles, no matter what sort of car you have or where you had to go.
Heavy-Duty Towing
Mission Towing Service has the experience and machinery to take any heavy-duty vehicle back on track. Heavy-duty tow trucks are capable of providing high-powered, damage-free towing owing to under-reach and wheel-lift technologies.
Medium-Duty Towing
Our medium-duty tow trucks have a broad range of towing capacities, able to recover vehicles ranging from 1-ton vehicles to small car removal Perth.
Light-Duty Towing
Whether you've locked yourself outside of your vehicle, are having vehicle issues, or need to tow your motorcycles, our crew can help you and your vehicle.
Flatbed Towing
A flatbed tow truck may give a further sense of security that your precious automobile or trucks will not be damaged while being towed to safety if it breaks down and has to be towed to a service facility.
Tilt Tray Service
Tilt Tray Service removes vehicles from difficult places such as storefronts, the coast and riverbank, dense bushland, and deep ditches.

ROADSIDE ASSISTANCE
We have team members of roadside assistance experts that have dealt with a variety of roadside assistance situations. This enables us to take all necessary precautions while towing your vehicle securely off the road.
Jump Starts
When you get yourself in a dilemma where your car won't start, call the tow truck near me professionals for towing service. Our cheap tow trucks are equipped with the necessary equipment to kickstart your automobile in a parking area or at your house. We can tow your vehicle to a repair facility of your preference if it appears you require more than a jump start.
Lockout Service
It occurs to the best of us when people locked themselves out of their automobiles. Don't worry; Mission Towing Service has the expertise and equipment to do the work swiftly and without incurring any harm to your vehicle, truck, or van, regardless of any make, or model.
Flat Tyre Change
A flat tyre is a typical situation that we at Mission Towing Service are well-versed in dealing with. Allowing a flat tyre to ruin your day is not a good idea. We have the gear and know-how to change tyres on nearly any vehicle. We can tow your car to a nearby repair facility if it does not have a spare tyre.
Battery Replacement
Car batteries have an unusual tendency for expiring at unexpected times. Fortunately, our professionals are available and ready to assist in car removal Perth in such situations.
Fuel Delivery
Mission Towing Service providers are prepared with a range of fuel options to assist people who have run out of petrol. Each of our service providers has many fuel storage tanks on hand that may be supplied to your location.
WHY PICK US?
Reliable Workmanship
By delivering excellent safety and assuring reliable, quality work, we build long-term partnerships with our clients. Our professional towing near me crew will always show up on time and get you back on the road as soon as possible.
24-Hour Service
We're here to answer your towing services near southern suburbs request 24/7, whether you're stuck in peak hour traffic or it's midnight and there's no car in reach.
One-Stop-Shop
From heavy-duty towing to battery replacement services, and everything else in between, we are dedicated to meeting all of your towing near me Perth, and roadside assistance requirements.
Maximum Coverage
We carefully locate our tow truck near me services all over Perth and surrounding areas, to make your task of locating a cheap tow truck services provider conveniently.
Best Price Towing Service Perth
When you have a committed crew keeping track of your automobile repair needs, vehicle repair work shouldn't have to be pricey.
It's crucial to know how much towing services near Perth costs on average. It is critical to plan ahead of time. Our cheap tow truck services network is dependable, accessible, professional, and trustworthy.
Select a trustworthy and licensed towing services Perth business that provides cheap tow truck services. We will supply the finest prices for everything from accident removal and jump-starts to transporting, and we will do so at a low cost.
24/7 EMERGENCY TOWING
Accidents may happen at any time of day or night, and with our 24/7 Emergency Towing Service, you can receive help right away if you're stuck on the roadside. Our tow truck near southern suburbs WA, team of experts is well-versed in dealing with emergencies. Our towing services are rapid, quick, and responsive.
We've made considerable investments in our trucks and tools as a company to ensure that we can quickly respond to any sort of towing services Perth requests. There's no emergency that our outstanding fleet of state-of-the-art tow trucks and our skilled, licensed towing services Perth crew can't handle quickly and efficiently.
Efficient and polite the lads do a good job
Best towing service in Perth highly recommended
Really big thanks to your company. They arranged a tow for my car in Perth. Couldn't be happier with the service and pricing. Thanks guys
The guy was amazing thank you for making it so much easier and helping me with a car straight away. Positive attitude, highly recommended
Quick to respond and great service